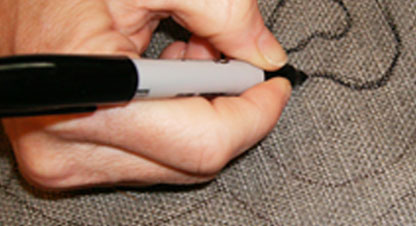 Here you have some good tips!
Visit News & Blog to read more tips!
How to mitre an edge that is

being whipped
by Brenda Ticehurst

Step 1 : The edge should be machine stitched close to the edge on all sides with a zigzag stitch. Then draw a diagonal line with a pencil from one corner to the other.

Step 2 : Whip up to the line coming down from the other side .

Step 3 : Start to follow the pencil diagonal line, then make three stitches at the bottom and start the other half and going up to the diagonal in the new direction.

Step 4 : When even, continue to whip as usual.

Dynamic Backgrounds
by Sylvia Solomon
For a textured and dynamic background, I prefer a non-directional hooking (or higgledy-piggledy) instead of the traditional straight lines. With a three colour palette you can obtain interest and contrast.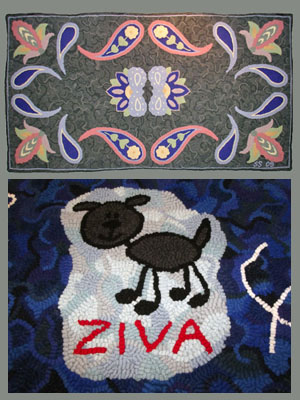 Hanging Rugs

by Carolyn Ells

1. I cut a board slightly smaller than the rug. I attach carpet tack to the edges of the board. The carpet tack points outward on all sides.

2. On the back, I mount picture frame wire.

3. Stretch the rug over the carpet tack, so that it is centered (and carpet tack not showing). Stretch rug beyond the carpet tack, then pat the edges of the rug into the tacks so that they holds the rug.

4. On the wall I put 2 picture hangers (can use nails). It is best to use 2 hangers on the wall to distribute the weight of the mounted rug and to help it stay in place on the wall. Hang it up and enjoy.

5. This is an easy method to display rugs. Rugs are easily removed for storage or travel.

Would you like to create an oriental rug? Hook a border with a repeated pattern?

The website
"Symmetry and Pattern: The Art of Oriental Carpets"
created by The Textile Museum and
The Math Forum
will provide you with valuable information.
Among other interesting facts
, you will learn about the 4 types of symmetry.